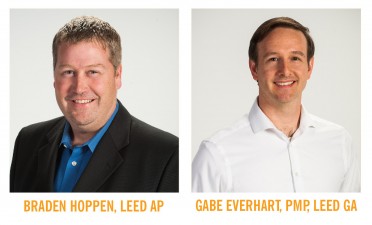 A new year has brought some new faces to the Holt Brothers team. If you haven't already, you'll be seeing them hard at work on project sites, at project meetings and around town. We're really excited about these new employees. They have initiative, discipline and team spirit — values we embrace. They also have expertise on a wide range of projects, complementing our already strong team of professionals. So "meet" our newest employees, Braden Hoppen, LEED AP and Gabe Everhart, PMP, LEED GA.
Braden joins us as a Construction Superintendent. He is known for getting things done on fast-tracked, complex renovation and ground-up projects. Braden has an in-depth knowledge of building practices, inspections and regulatory compliance, and a proven track record of schedule, budget and quality success. He has worked on a broad range of multi-million dollar projects, including commercial, industrial and pharmaceutical sites in Research Triangle Park. Prior to joining Holt Brothers, Braden was a Superintendent with McDonald York Building Company. He has 17 years of industry experience. We're happy to have him on-board. Soon he'll be working on-site to transform the Market + Exchange Plazas in the heart of downtown Raleigh.
Gabe joins us as an Assistant Project Manager. Previously, he served as a Senior Project Controls Specialist for Duke Energy and was responsible for providing project controls support to capital construction projects across North Carolina. He has more than 15 years experience, and has worked in project management, supervision, estimating and sustainable construction on commercial, higher education, federal and international projects. I was blown away when he told me about the projects he has worked on — everything from data centers, classrooms and offices to the Southeast High Speed Rail Corridor and a U.S. Embassy. It's impressive. We already have him hard at work on Market + Exchange Plazas and NC State's College of Veterinary Medicine Anatomy Lab Renovation.