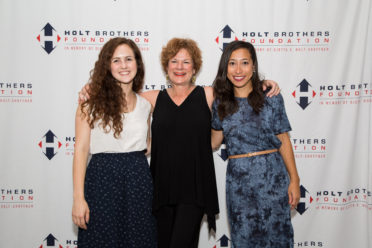 As I wrap up a seven-month marketing internship with Holt Brothers, Inc., I'd have to say that I am nowhere near ready to leave. Between the incredible working culture and the constant supply of Peanut M&Ms, Holt Brothers is the place to be. Every day I spent here, I felt like I had a purpose and was challenged to do my best.
In lieu of reminiscing, I thought I would share five of my favorite things about interning with Holt Brothers:
The work. Holt Brothers gave me the unique opportunity to experience marketing within three very
different industries: construction, sports, and nonprofit. This included writing project descriptions, business development, event-planning, coordinating projects, updating websites, attending fundraising events, and more. My first day on the job was spent on a golf course for a fundraising event and the next day I was learning about the different construction projects our company was working on. Never a dull moment. It was the perfect opportunity for me to experience marketing on a broad scale.
Company culture. I have always dreamed of working in a corporate setting, but did not know what it was truly like. This left me unsure and slightly nervous. However, my first day in the office everyone came up to me to introduce themselves. Even better? The excitement they showed that I was there. For lunch, many times we would all go out together or eat in the office at around the same time. Holt Brothers employees are always walking around, which gives plenty of time to get to know each other. Not only did I get to work closely with the marketing team, but I was also able to work with the construction team and foundation board.
Experiential learning. I was able to work alongside an incredible marketing team who challenged me to try new things and put new ideas out there. The freedom to utilize my own ideas in designing the cover of a manual or writing blog posts was one of my favorite parts of this internship.
Location. The downtown location gave me the opportunity to get to know Raleigh better by attending meetings downtown, trying out new restaurants for lunch and looking out from the awesome 13th-floor view. Now that I have worked downtown, I am in love with this city! I'm heading to Germany to study abroad next semester, but I'll definitely be back.
Professional development. As Tracy has told me throughout this internship — "network, network, network!" I am so thankful for the professional development and experience I have gained just by sitting in on meetings, writing emails daily, and attending local networking events.
So now I'm not unsure or nervous about corporate life — I'm ready to start my career after I graduate in December 2018. And while it's bittersweet to leave because I truly will miss the Holt Brothers fam, I know we'll stay connected.