The inaugural Holt Brothers Foundation Corporate Flag Football Tournament offered 16 teams a day of competitive fun and giving back. The energy was full-tilt. Players gave it their all, cheerleaders were supporting them and their tailgate crews kept everyone fueled up. But there was more to it. The Holt Brothers Foundation raised funds and awareness for their cause, helping kids who have been affected by a parent's cancer.
Along with a full day of flag football, the tournament also served as a team building opportunity for the companies represented. Not only did each team participate in the tournament, they also crowdfunded on behalf of the Holt Brothers Foundation. That's big. This all took strategy, practice and leadership.
One of those leaders, Caleb Lowman, shares his experience and how this tournament helped his team build trust and strong relationships. He was team captain of the Kimley-Horn aka KHlutzy Kholaborators team … who are, by the way, the reigning champs.
Caleb's perspective: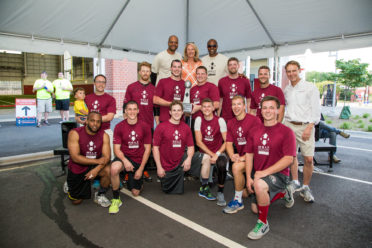 When I heard about this event, I could see the value in participating as a firm. First it's FUN and for a good cause. I also recognized it would be an opportunity to build relationships with colleagues and create new relationships with individuals that work in other firms in the Triangle. Sure, I knew there would be challenges coordinating with each player, scheduling practices and essentially acting as a coach, but I knew it would be worth it. Why? Because it's all a part of creating a cohesive team and growing the community at Kimley-Horn. This all came at a perfect time too. The Cary and Raleigh Kimley-Horn offices had recently merged, making way for a lot of fresh faces. The tournament was a fun way to interact with our new colleagues and build lasting relationships with them.
Now, let's talk about the tournament itself. The overall experience was fantastic – from the sunny weather to the fun of the games, it was a day full of spirited competition and camaraderie. We even got tips from professional athletes who served as coaches. They were all incredibly approachable and were having just as much fun as we were. VERY cool. They were willing to talk football or just take a break and talk everyday life with each of us.
The tournament was also a great way to network and get to know the corporate community in the area. It goes beyond that for me, though. I was personally able to build my leadership skills by connecting with those on my team, motivating them, communicating efficiently and being innovative with our team through strategy and sketching plays. It paid off too – we won the tournament! More importantly, it was amazing to see how all the teams pulled together and raised over $86,000 to help support kids who have a parent with cancer.
We're definitely getting involved again next year. And we look forward to playing in (and winning) next year's tournament! Although, I'm afraid, we will have a target on our backs. This was a pretty competitive group, which made winning even better.