By: Hunter Davis, Junior at NC State University + Founder/Director of Camp Kesem at NC State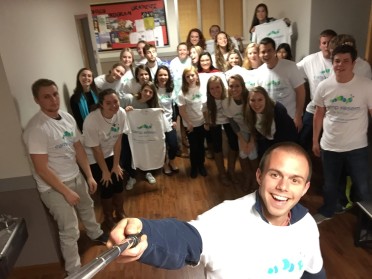 First, let me tell you a little about Camp Kesem. It's a national not-for-profit organization that supports kids who have a parent with cancer through week-long summer camps. The camps are all student run and there are over 70 college chapters in the United States. Camp Kesem gives kids who have experienced adversity, stress and pressure the opportunity to have fun and be kids again. It's truly a magical place. Last year, there was only one Camp Kesem chapter in North Carolina run by our friends at UNC and Duke (yes, we can be friends). This year, with the help of Holt Brothers Foundation, I founded the NC State chapter so we can help more kids experience the magic of Kesem.
That brings me to #WHYIKESEM — I founded the NC State chapter in honor of my dad, who I lost to cancer when I was 16. I Kesem because it gives me the opportunity to support kids who are going through something similar to what I went through. The toll cancer had on my family drives my passion for making a difference and helping change the lives of the kids and families we support. Knowing that we have the ability to put a smile on their faces, make their day and give them some reprieve from their tough situations at home gives me the inspiration to Kesem every single day. This one's for you, dad!
Now we need you. Since Camp Kesem is in its first year at NC State, we need your help in order to support and change the lives of as many kids as possible. So how can you help? Well, on Friday, April 22nd, Camp Kesem at NC State will host our inaugural "Make the Magic" fundraising event. Come out for a night of fun, food, drinks, entertainment and more! Torry and Terrence Holt, former NC State and NFL football stars and the founders of the Holt Brothers Foundation, will also be there.
Date + Time: Friday, April 22nd, 7:00 to 10:00 PM
Location: Wake County Shrine Club, 6015 Lead Mine Road, Raleigh, NC 27612
Cost: $40/person
Raffle + Silent Auction Items: 1-week timeshare in Hawaii, Total Wine & More class for 20, Round of Golf for 4 and more!
RSVP: donate.kesem.org/ncstatemtm
If you have any questions, please email ncsu@campkesem.org. Also, be sure to check out #WHYIKESEM on Facebook, Twitter and Instagram for more about why Camp Kesem is so important to us.
From all of us at Camp Kesem, thank you for supporting us and for helping give these kids a week of memories – and friendships that last a lifetime.