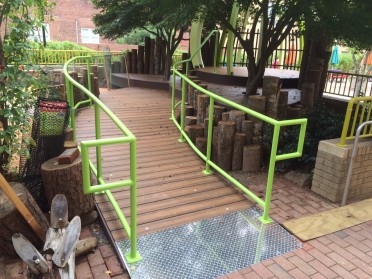 During my career, I've worked on some pretty high-profile projects, including the Apple Store at Grand Central Station, a Tom Ford store in Chicago and the Tory Burch boutique in D.C. But my favorite project to date is a FORT. Sure I may have made some pretty solid ones as a kid, but I'm talking about the Marbles Kids Museum Sun Sprouts Fort. It takes forts to a whole new level, and also demonstrates the power of community and collaboration.
In fact, community and collaboration is the cornerstone of this project. Marbles used crowdfunding to raise money to support the project. More than $15,000 came from community donations, which were matched by Moe's Southwest Grill.
Holt Brothers Construction, JDavis Architects, Stock Building Supply and Greenscape donated their time and services to design and construct the fort. The team even invited the community to a building blitz. People watched us erect the "ribs" — the green structures that go from the bottom of the fort to the tree line. Even more impressive is that the ribs were completely fabricated within Marbles by their staff.
As you can probably tell, the excitement surrounding the project was contagious. Marbles was excited, the community was excited and, as if you can't tell, I'm excited! Because this isn't your typical construction project, there were some interesting challenges. Permitting a fort can be … interesting. That's a word I use when I don't know what else to say. We also had to fabricate certain pieces when the project was almost completed, which is the exact opposite of what we usually do on a construction project. Teamwork played a BIG role.
I'm thrilled to have played point on this project for Holt Brothers Construction. I'm really active and I love that I got to create an area that promotes outdoor play for kids. There's even a Sun Sprouts garden next to the fort, where kids can pick their own fresh fruits, vegetables and herbs.
Play, nature, imagination. Sounds like a winning combination to me. Don't be surprised if you find me visiting. After all, it is my favorite project.