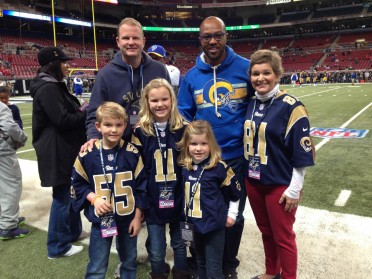 The Holt Brothers Foundation supports Camp Kesem, a national college-based organization that runs summer camps for children who have a parent with cancer. Last year, my brother Terrence and I agreed to underwrite the Holt Butterfly Grant to support camp expansions throughout the country. (Last year, it helped Camp Kesem North Carolina operate a much-needed second week of camp here.)
Today, Camp Kesem announced that St. Louis University is launching a camp for kids with a parent fighting cancer. It will be held August 3-9 at Camp Jo-Ota in Clarence, MO for kids, ages 6-16, in the St. Louis area. The camp gives kids the chance to be kids and build friendships with others who are going through similar experiences. It's also free, a big help for families battling this disease.
The work done by Camp Kesem is very close to my heart because of what our family went through when my mom was diagnosed with cancer. Terrence and I have made it our mission to help kids cope with the same difficult experience that we went through.
What makes this summer camp unique is that it is created and staffed entirely by students. In North Carolina, Duke University and Carolina support Camp Kesem (proof that our universities don't always compete) and it's great to see SLU stepping up in St. Louis.
In the news release issued today by Camp Kesem, Dr. Michael Amylon, a pediatric oncologist at Stanford Hospital and member of the Camp Kesem-Stanford Advisory Committee, sums it up better than I ever could. He notes that kids with parents who are cancer patients have their lives turned upside down. "Camp Kesem," he says, "is an environment where kids can be kids again, network and share thoughts and feelings with others in similar circumstances, and have a community of caring adults to provide needed attention and boost their self-esteem."
To the many fans who supported me in St. Louis and to the great folks there, I'm thrilled that I can still be part of your lives by supporting a great program that will make life better for kids with a parent with cancer.
For more information, to obtain camper applications or to make a donation, please contact Casey Carroll, Camp Kesem SLU Co-Director, at 920.843.2973 or slu@campkesem.org.   You can also visit the camp website at http://campkesem.org/SaintLouis.