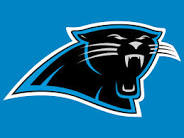 My heart is always with St. Louis. But with their absence from the NFL playoffs, I'll be pulling for my home team. The Carolina Panthers have a chance to clinch the NFC South Division this Sunday against the Atlanta Falcons.
Here's how I see it. The edge goes to Carolina. The Falcons have a 4-11 record; Carolina has an 11-4 record. The Falcons offensive line has had problems this year. And the Panthers, in my opinion, have one of the top five defensive front lines in the NFL.
QB Cam Newton is making key plays in critical situations. Cam is maturing in his role and he has the ability to make the people around him better. The entire team is closing out games better this year.
While the Panthers might be without Steve Smith, I think they have enough without Steve to win. Greg Hardy is playing like a monster. DeAngelo Williams has emerged as a leader on the field and is giving everyone a run for their money (Pun intended). That gives Cam confidence and vice versa. And then you've got relentless linebackers, led by Luke Kuechly and Thomas Davis, stopping opponents in their shoes.
But this won't be an easy game. These two teams know each other. They're division rivals. Atlanta would love to be the spoiler, no doubt about that. But the Panthers have everything to play for. You always want to play at home. You've got the fans, you're sleeping in your own bed, you're comfortable, you've got your routine.
The home boy in me is coming out right now. Can't wait for Sunday's game. And now you know who I'll be cheering for. Loudly.