W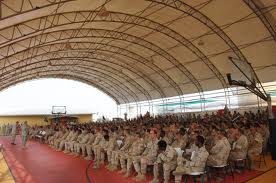 hen I got a phone call from Dré Bly (I know, Carolina guy but he's still my and Torry's best friend), I had no idea we'd be leaving on an adventure together. We'll be on a plane today for 20 hours, heading to Djibouti, Africa to visit US troops stationed there. 
The program, run by ProTour Productions in partnership with the NFL, sends NFL alumni, current players and team cheerleaders to different bases throughout the world. My dad was a Marine. He served in Vietnam and still has metal and shrapnel in his head from an injury he suffered, earning him a Purple Heart. When Dré asked if I'd like to go on the trip, I thought it was the perfect way to honor my dad, see and feel a bit of his experience, and express my gratitude to the boots on the ground.
I really want to see the eyes and faces of the folks who are protecting our country and interests. It seems like perfect timing because of the debate regarding Syria and the strife in the Middle East. It's easy for people to say, "we should go to war," or "no boots on the ground in Syria." For me, visiting the troops makes the debate real.
Our job while there is to have energy – seriously, we're going to go through the same training exercises that the troops go through. We're staying with them on the base. We'll have one-on-one time and autograph sessions. It's all about boosting morale.
I got my tetanus shot. I'm taking my malaria pills. And I'm bringing my jersey and plenty of hand sanitizer as I was instructed to do. I'm getting ready for the 20 hours we'll be in the air and the 100+ degree heat. But if the flight was 40 hours and it was 120 degrees, I'd still be going.  Because I know that while we're there to show our gratitude, it's more about what they're giving to back me. And that feels good.