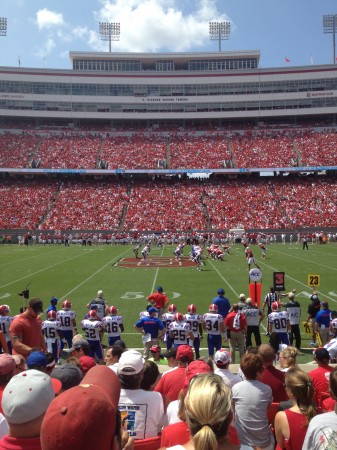 NC State couldn't have started the season (and Coach Doeren's tenure) better than the seven play, 65 yard, 2:33 drive that resulted in a touchdown.  It was the perfect tempo and it pumped up the anxious 60k plus fans.  Then the unfortunate happens – Quarterback Brandon Mitchell goes down and limps off the field.
Wow. I had just left to refresh my beverage and already our newly named starting QB is down.  "You're up Pete Thomas," I tweeted. And with that, Thomas enters the game. With Thomas at the helm, the first half was much like the first drive for the offense. They used creative play calling and wrinkles to easily move the ball up and down the field, compiling 24 points. The second half was much the same, albeit scoring only once and having to settle for three field goals.
Sunday's headline: "Pack coasts to a 40-14 lopsided victory vs. LA Tech."  To the naked eye, all seems well. But lurking are potential problems.  While we gained 298 yards in the first half, we surrendered 228. Now LA Tech has a sure-fire future NFLer in Kenneth Dixon if he stays healthy. But this wasn't Georgia's Todd Gurley running it or an ACC team for that matter. I played the game on the defensive side, so I get it. The name of the game is keeping the other team out of the end zone and taking the ball away. We did that, so hat's off. But this could easily have been closer – and close is not comfortable, nor does it allow younger, less experienced players the necessary action to gain experience and confidence.
We have to be better against the run and cut down on the amount of big plays we relinquish. QB Brandon Mitchell's command of the offense was apparent in his short stint and, more importantly, his mobility and knack for extending plays will be missed.  Mitchell's injury is slated to keep him off the field for an extended amount of time, so it's Pete's show now.  Sometimes when unfortunate things happen, it rallies a team and invokes an amplified sense of urgency to reach a common goal. Fingers crossed.
There is a saying: "A win is a win is a win." And we got the win.  On our way to the win, we did a lot of positive things. Offensively, we racked up 542 total yards, and dominated time of possession 2 to 1. In his debut, freshman Matt Dayes rushed for 84 yards and three TD's on 17 carries.  Defensively, we caused five turnovers and gave our offense great field position most of the day.  Causing turnovers wins games. Penalties were minimal.
Like every team that played last week, we need to clean up our mistakes and continue to improve.  But I like the direction of our team and our program. I can hardly wait until next week.