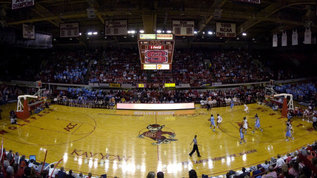 Torry and I get asked a lot how the world of sports translates to business. I'm not sure where to start because I feel like my entire sports career prepared me for the business world. It's having the big picture in mind (i.e. winning the game), knowing your role on the team (defensive back or end, starter or role player), and mastering the details. So what it all comes down to is preparation.
We have a great example from last week. Holt Brothers Construction competed for a mentor-protégé role on a big project. It just so happens to involve this iconic structure at our alma mater – the Reynolds Coliseum renovation and Walk of Fame at NC State. Being competitive types, the Holt Brothers team wanted this BAD.
So what did we do? We prepared. We did research. We dug into details. We developed a plan or road map.  We had seven people involved one way or another on our presentation. We all knew what we wanted to achieve (the WIN), we all knew our roles, and we all worked together to pull it off. We practiced and tweaked our presentation. We constructively critiqued one another. We polished our leave behind. And then we practiced some more. We peppered each other with questions that the selection committee might ask. We even had a few laughs.
Preparation gave us confidence. Preparation built our team. Preparation allowed us to execute with precision and clarity. Preparation put us in a position to win. It's the same in sports and business. We'll let you know if we win. Or should I say, we'll let you know when.