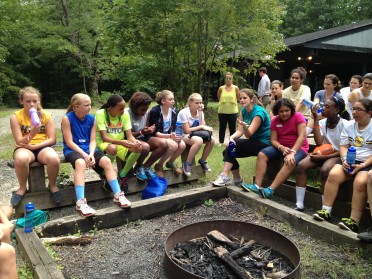 Even though I'm 37 and Terrence is 33, talking about our mom is still difficult. It brings back memories, good and bad. And we relive our experience. Such was the case yesterday, talking with the kids at Camp Kesem, a summer camp for children who have a parent with cancer. We know what those kids are going though. Because we lived through it ourselves.
Talking with the kids – in this case – 13 to 15 year olds — is always fun, even inspiring. They have big dreams, just like Terrence and I did. One young lady wants to be in the WNBA. Others want to be doctors. One wants to be a motivational speaker — on anti-bullying. Another wants to be a musician. When they talk about the future, there's hope. That's what I like to see.
But we're also dealing in the here and now because dealing with cancer is scary. It's uncertain. That's why Terrence and I founded the Butterfly Grant at Camp Kesem. It provides a second week of camp to kids who live with cancer every day. When you ask the kids what they like about Camp Kesem, it's the fact that everyone there knows what everyone is going through. You don't have to worry about crying. People are nice to you. One young man described it this way: "You can't really say you don't know what my life's like when you're here." Because everyone does.
Terrence and I wish we had a program like this growing up. Instead, we had sports. It was a great outlet for us, a way of expressing ourselves, a motivator. It was our way of honoring our mom and what she would want for us. We share this with the kids. They get it.
After going around the circle, each kid sharing a bit about their future, one girl asks Terrence, "What do you want to be when you grow up?" Everyone starts laughing. Then the same girl asks me about my broken finger. More laughter. That's why we love Camp Kesem. Even among the pain of cancer, you can still find time to laugh and be a kid.